Annual General Meeting 2021
September 29, 2021 @ 7:00 pm

-

9:00 pm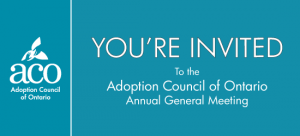 ANNUAL GENERAL MEETING
 You are cordially invited to join the Board, staff and friends of the Adoption Council of Ontario (ACO) as we celebrate our successes of 2020, and plan for 2021/2022.
Feature Presentation – Pioneers & Milestones in Adoption
First The ACO wants to recognize that Indigenous people have been impacted by trauma and loss, in the context of adoption and permanency journeys. First, we will take responsibility and acknowledge and apologize, then we honour the pioneers who worked with heart and compassion to move forward in openness and truth.
When:

Wednesday, September 29th, 2021, 7:00 PM – 9:00 PM

Where:

Virtual – Zoom 

Meeting details will be provided upon registration

RSVP:
RSVP by September 24th
Adoption Council of Ontario
The Adoption Council of Ontario is a not-for-profit providing outreach, support and education to all adoptees, adoptive parents, potential adoptive parents, birth families, and adoption professionals in Ontario. We deal with public adoption, private adoption, international adoption and relative adoption. Since 1987, we have been working towards a provincial community where all children have families forever.
Copyright 2021 Adoption Council of Ontario. All Rights Reserved.